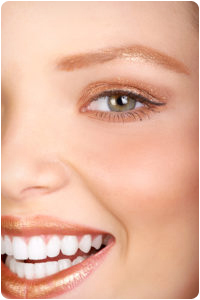 Improving your smile can have a dramatic impact on your overall appearance – as well as on your confidence and self-esteem! According to an American Academy of Cosmetic Dentistry survey, your smile creates an immediate, subconscious, visual impact on everyone you meet. A radiant, beautiful smile is perceived as a sign of youth, vitality, health, happiness, and higher self-esteem. With modern advances in cosmetic dental procedures, your path to a perfect smile has never been easier.  Whether it's veneers, braces, blemish correction, whitening, correcting chips or the length and shape of your teeth, a Smile Makeover at our Flossmoor, IL, dental office can help boost your confidence with cosmetic dentistry!
At our dental office in Flossmoor, IL, creating a stunning, confidence-boosting smile is our top priority. Health and aesthetics go hand in hand at dental office in Flossmoor, IL. If you are looking into cosmetic dentistry, our Flossmoor dentists have it all – and many cosmetic procedures have benefits beyond appearance.  For example, porcelain veneers have structurally functional benefits, allowing you to chew and bite better, which can help protect your teeth.  Veneers may also be a solution for you if your teeth aren't responding to multiple teeth-whitening treatments.
Our Flossmoor, IL, dentists offer a Smile Makeover — giving you the opportunity to design your perfect smile. Simply bring in photos or images of what you want your ideal smile to look like and we can help you achieve it. We'll discuss your goals and the vision you have for your dream smile. Once we understand your vision, we will work with you to design your personal Smile Makeover. Come experience our Flossmoor Dental and you will see we offer our patients comfortable dental care with a smile.  Find out more about our Smile Makeover during your appointment with an experienced Flossmoor dentist.  Feel free to call 708.798.1234 and find out how you can benefit from cosmetic dentistry today!
This information is not meant as medical advice. It is provided solely for education. Our dental office in Flossmoor, IL would be pleased to discuss your unique circumstances and needs as they relate to these topics.
---
About The Center for Dental Excellence
Top-Rated Flossmoor, IL Dentists — Specializing In Oral Health
We are a team of highly-skilled and experienced dentists in Flossmoor with a reliable support staff. We strive for excellence as we carry its value in our company name.
Why Should You Choose The Center For Dental Excellence Of Flossmoor, IL?
There may already be a lot of dental specialists in Flossmoor, but we are confident in saying that we are one of the best dental offices that serve this area and nearby districts. We are an award-winning dental office, not to mention a recipient of Angie's List Super Service Award and Patch Reader's Choice 'Best Dentist in Town.'
To check out our dental office in Flossmoor, simply drop by our office on Governors Highway in Flossmoor, Illinois. It is always our pleasure to welcome and help our patients with their dental needs, especially new patients. We have also improved our appointment booking and inquiries hotline where you can readily talk to our front desk representative at (708) 794-4231 or use our online inquiry and booking platform at www.flossmoordental.com.