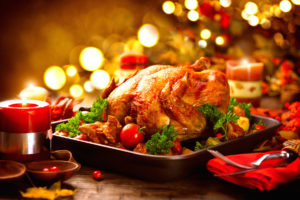 Our Flossmoor, IL dentists know how easy it is to forget what we are thankful for as we reflect on this Thanksgiving. At The Center For Dental Excellence, we are most thankful for you, your business and your trust as we work with you to make your smiles the best they can possibly be. Our Flossmoor dentists and dental team understand that you have a lot of options when it comes to you and your family's dental needs, and we value our relationship with you as we work together.
While you enjoy your holiday this year, remember to be mindful of common problems that that may indicate a dental issue, such as Gum Disease. Gum disease is not just something that affects "other people." According to the Centers for Disease Control, more than 64 million adults in the United States are living with or have had gum disease. Gum disease is treatable, curable and preventable, and we are on the front lines battling it for you. In addition to regular cleanings and tooth whitening, we also perform deep cleanings. These involve scaling and root planning in order to remove bacteria, tartar, and food debris that has collected under the gum line and can instigate gum disease.
We provide X-rays to ensure we are getting the full picture of your dental health, and also provide important oral cancer evaluations. Did you know we can provide nutritional information as well? Our goal is your dental health, and nutrition can be an important factor when it comes to your teeth.
Sometimes your smile needs a little repair from time to time. In addition to filling cavities, we also provide tooth veneers, crowns, inlays and onlays (which are more effective when a filling might not be enough), and tooth bonding to reshape and improve teeth when warranted. If you might have missing or cracked teeth, we can fix those too, with dental bridges or implants. Whether it's the smile you're showing the world, or the less visible health of your teeth and gums, we are here for you. Our Flossmoor, IL dentists are here to do more than just scold you for not flossing enough!
We all have so many things to be thankful for on this holiday, and among them is that you or your family members are maintaining strong dental health! Our dentists in Flossmoor, IL, are honored and thankful that you chose us to take this journey with you, and look forward to seeing you again soon!
Sincerely,
The Center For Dental Excellence team!
P.S. – After you finish your turkey, please remember to brush and floss!
This information is not meant as medical advice. It is provided solely for education. Our dental office in Flossmoor, IL would be pleased to discuss your unique circumstances and needs as they relate to these topics.
---
About The Center for Dental Excellence
Top-Rated Flossmoor, IL Dentists — Specializing In Oral Health
We are a team of highly-skilled and experienced dentists in Flossmoor with a reliable support staff. We strive for excellence as we carry its value in our company name.
Why Should You Choose The Center For Dental Excellence Of Flossmoor, IL?
There may already be a lot of dental specialists in Flossmoor, but we are confident in saying that we are one of the best dental offices that serve this area and nearby districts. We are an award-winning dental office, not to mention a recipient of Angie's List Super Service Award and Patch Reader's Choice 'Best Dentist in Town.'
To check out our dental office in Flossmoor, simply drop by our office on Governors Highway in Flossmoor, Illinois. It is always our pleasure to welcome and help our patients with their dental needs, especially new patients. We have also improved our appointment booking and inquiries hotline where you can readily talk to our front desk representative at (708) 794-4231 or use our online inquiry and booking platform at www.flossmoordental.com.