Achieve Your Best Smile With Orthodontic Services in Flossmoor, IL
You can also come to The Center For Dental Excellence not only for high-quality dental care but for revolutionary orthodontic services in Flossmoor, IL. Our in-house Orthodontist, Dr. Shehab Helal, proudly offers expert orthodontic services and state-of-the-art treatment options (listed below!) to our patients.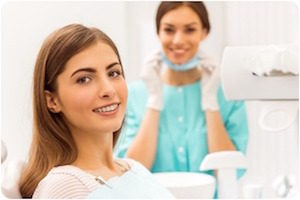 Traditional Metal Braces
Traditional metal braces are the most common type of braces used in orthodontics, as they are the tried-and-true method to straightening teeth, regardless of the severity of the case. Metal braces are made of high-grade stainless steel and utilize brackets, small rubber bands, and arch wires to straighten your teeth during the course of your treatment process. They have progressed a long way in the past decade, so they can now ensure better comfort while you wear them. They are also a great way to customize your smile by using different colored rubber bands. You can customize these at each visit according to your personal preference.
Invisalign
Getting braces typically requires a shift in many everyday habits. With brackets and wires, you have to use special interdental toothbrushes to get between brackets and underneath wires when you brush and floss. With Invisalign, offered by The Center For Dental Excellence, your smile-changing experience will only require a couple of minor changes in your day-to-day routine! Additionally, Invisalign uses clear, plastic aligner trays that are removable. This allows you to eat whatever you want, play any sports you want, and play whatever instruments you want, without being forced to adjust to the requirements associated with traditional orthodontic braces. You only need to brush your trays when you brush your teeth (after every meal) and remember to swap to the new trays every two weeks. No one will even know you are straightening your teeth!
Unlike with traditional braces, Invisalign lets you enjoy the same foods as before, because you can remove the aligners before eating. You also never need to suffer from bad breath issues, because you can still brush and floss as you normally would. Invisalign has no metal brackets or wires to pinch or poke the insides of your mouth. This helps kids to feel happy at home and school. They'll also thank you for spending less time at our orthodontic office, since it will free them up to spend more time with their friends and to enjoy the activities they love!
Clear Braces
Another popular alternative to metal braces are clear braces. Clear braces are a great way to achieve a less noticeable, healthier smile. You'll love the natural look of these smooth, sculpted, and completely clear braces, which will not stain or discolor, and which can be blended in with your unique tooth shade. Clear braces offer our patients the look they want, with the functionality of traditional metal braces.
Ready to Improve Your Smile with Orthodontic Services in Flossmoor, IL?
If this is your first time visiting The Center For Dental Excellence, welcome! Whether you are seeking a Flossmoor, IL, general dentist, oral surgeon, pediatric dentist, cosmetic dentist, or endodontist, our team of specialists are here to provide results and the most enjoyable dental visit you will ever have!
If you are a new patient ready to schedule your first appointment, please click here to schedule your appointment.
If you are an existing patient, you can schedule your Virtual Check Up with our doctors, or call 708.798.1234 to book an appointment.
High-Quality Dentistry From Compassionate Doctors
At The Center For Dental Excellence, we understand that changing dentists or searching for a new dentist can be a complicated process. You want to find someone who is professional, offers the services that you need or want, and provides a friendly atmosphere. We meet those standards and beyond! Whether you are seeking a Flossmoor, IL, general dentist, oral surgeon, pediatric dentist, cosmetic dentist, or endodontist, our team of specialists is here to get you the results you want and provide the most enjoyable dental visit possible! Having all dental specialists under one roof saves you the hassle of being referred out for different treatments. Schedule your appointment, complete your new patient forms, then benefit from having all your dental providers in one place! Follow one of the steps below to get started:
Call 708.798.1234 if you have questions or to schedule your first initial exam. One of our friendly team members will be glad to assist you.
Fill out our convenient scheduling form and a member of our staff will be in touch with you shortly to answer questions or schedule your first appointment.