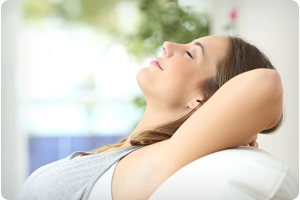 Your favorite Flossmoor dentists have something interesting to tell you, but first, a few questions: Do you find yourself struggling to stay awake during the day? Do you drift off while reading or watching television? Are you agitated and irritable due to lack of sleep? Does your partner mention your snoring? These symptoms may be signs of sleep apnea, a sleep disorder characterized by unnatural pauses in your breathing that cause you to wake up and gasp for breath. You may not even remember these brief periods of wakefulness, but your body certainly feels the effects.
What causes sleep apnea? Your Flossmoor, IL dentists know – and you may be surprised.
Gender – Kind Of
Historically, sleep apnea has been regarded as an "overweight men's disease," but that's not entirely true. While both obesity and being male can increase someone's likelihood of developing sleep apnea, post-menopausal women are just as likely to be affected as their male counterparts.
High Altitude
Have you ever gone on a hike only to find your breathing strained as you climb higher and higher? That's altitude hard at work, and it affects your breathing while you're sleeping, too. The change in oxygen at higher altitudes can make you unwittingly begin alternating between shallow, irregular breathing and hyperventilation (rapid breathing), leading to sleep apnea.
Your Medication
Though prescriptions are generally safe when used in the manner dictated by your prescribing physician, some medications – particularly a group of pain medications called opiates – can affect your breathing and cause it to become slower and/or irregular. Always begin your Flossmoor, Il dental appointment by updating your dentist on any new medications or dosage changes so you can get the customized, fully-informed care you deserve.
A Solution for Sleep Apnea From Your Flossmoor, IL Dentists
If you're suffering from sleep apnea, a visit to the Center for Dental Excellence dental office in Flossmoor, IL may be your first step towards a sound night's sleep. Flossmoor dentists offer Oral Appliance Therapy, which is essentially a custom-fit mouth guard that helps keep your airway open while you sleep. This handy gadget not only helps with sleep apnea, it also works to minimize snoring!
To explore your options for sleep apnea solutions, schedule a consultation with the top dentists in Flossmoor, IL. Isn't it time you woke up feeling rested and refreshed?
This information is not meant as medical advice. It is provided solely for education. Our dental office in Flossmoor, IL would be pleased to discuss your unique circumstances and needs as they relate to these topics.
---
About The Center for Dental Excellence
Top-Rated Flossmoor, IL Dentists — Specializing In Oral Health
We are a team of highly-skilled and experienced dentists in Flossmoor with a reliable support staff. We strive for excellence as we carry its value in our company name.
Why Should You Choose The Center For Dental Excellence Of Flossmoor, IL?
There may already be a lot of dental specialists in Flossmoor, but we are confident in saying that we are one of the best dental offices that serve this area and nearby districts. We are an award-winning dental office, not to mention a recipient of Angie's List Super Service Award and Patch Reader's Choice 'Best Dentist in Town.'
To check out our dental office in Flossmoor, simply drop by our office on Governors Highway in Flossmoor, Illinois. It is always our pleasure to welcome and help our patients with their dental needs, especially new patients. We have also improved our appointment booking and inquiries hotline where you can readily talk to our front desk representative at (708) 794-4231 or use our online inquiry and booking platform at www.flossmoordental.com.