Meet The Team Of The Center For Dental Excellence
Meet Our Dental Hygienists
Darlyne
Darlyne's interest in the dental field could have been sparked by the fact that her cousin was in the first Dental Hygiene class at Northwestern and growing up, two of her neighbors were dentists! After working as a Dental Assistant during high school, she went on to earn her Associate Degree in Applied Sciences with a Certificate in Dental Hygiene from Parkland College. She has been a full-time hygienist for over 35 years!
Darlyne loves being part of a team that works together to help patients live their best dental life through education, quality care and heartwarming visits.
When she's not at the office, Darlyne enjoys spending time with her daughter, family and friends. She loves to travel and swim and is passionate about managing the Dawn Brancheau Foundation, in memory of her sister.
Mary
Mary grew up in Chicago. From a young age, she always had a job, from delivering newspapers to working at a local college to learning about dentistry as a Dental Assistant. Mary received her Certificate in Dental Assisting at Morton College in Cicero, Illinois and then was hired by the University of Illinois Dental School.
When H.I.V. surfaced, many hygienists left the dental field because so little was known about it. Mary saw the growing need and went back to school, graduating with her degree in Dental Hygiene from Prairie State College.
Mary absolutely loves being a Dental Hygienist and appreciates the way we work as a team at CDE to provide the best care to our patients. For her, the biggest reward is when patients grow to trust her in helping them with their oral care and truly become family.
Mary loves spending time with her wonderful family, going on short trips to connect with them. One of her favorite vacations was a trip to Canada! In her spare time, she enjoys reading, playing golf and listening to live music.
Sheree
Sheree graduated from Loyola University with a bachelor of science degree and is also Laser certified and an authorized CPR Instructor.
She appreciates how CDE is constantly evolving to better serve the community of patients they have built and how high they set the bar for the standard of care. Sheree loves the CDE family's team environment and believes everyone here truly cares and loves what they do. It is a pleasure to come to work every day! Working at CDE helps her serve patients better and create amazing smiles. Smiling is our super power!
For fun, Sheree creates content that helps parents keep their kiddos healthy from the start. She is very passionate about dental health and explains, "I was bullied as a child because I had stains on my front teeth and that effected my self-esteem. If I can save one child from feeling the way I did about my smile, I am successful!"
Stefanie
Stefanie graduated from the College of DuPage, receiving their Professionalism and Dedication to Learning Award in 2015!
She went through extensive dental treatment as a child and was fortunate to have a fantastic dentist and hygienist to help her improve her oral health. From then on, she knew her passion was in the dental field. 
Stefanie thrives on helping others improve their total body health in a judgement-free zone.  She is here to listen to patient's needs and support our fantastic doctors in providing exceptional care. She encourages patients to asks questions. Especially given her own dental history, Stefanie's goal is to make every patient's experience comfortable and positive.
Stefanie shares, "I have one dog, Zero, who's the light of my life. Oh! and my husband 😉 lol! Nick and I love to travel. Hawaii, Italy, and England are just a few of my favorite travel destinations. My other hobbies include baking, fishing, organizing (nerd, I know), and my favorite shows are Great British Bake Off, Friends, Seinfeld and The Big Bang Theory."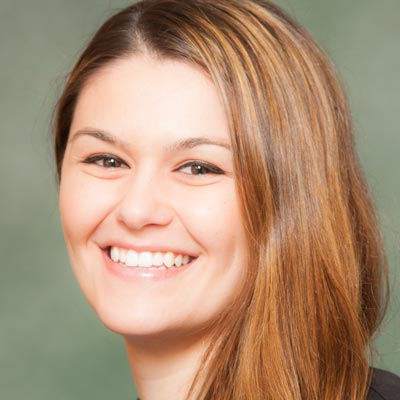 Andrea
Andrea earned her Bachelor's degree in Communications from Eastern Illinois University in 2014 and her Associate's degree in Applied Science in 2022.
In her own passionate words, here is why she became a hygienist:
"Working on the Front Desk Team at CDE for almost 7 years and getting to know the patients was the best part. Every patient has a story. I've seen doctors and hygienists change lives. I've seen patients regain their confidence. Patients who were embarrassed to smile at their first visit, now smile at EVERY opportunity. I've watched patients break down at the front desk because they are terrified but walk out of the same visit with a smile on their face. We are a safe space for our patients. I wanted to be a part of that. I wanted to have that effect on someone. We do more than 'just clean teeth'. We bring a new meaning to life to these patients. That's what it's all about."
Outside of the office, some of Andrea's favorite things are wine tasting, spending time with family and friends, and binge-watching Grey's Anatomy!