Flossmoor & Homewood, IL's Favorite Dentists For Sleep Apnea
Dentists With A Completely Different Approach To Dental Care
Sleep apnea is a sleeping disorder that results in a disruptive sleeping pattern. If you have sleep apnea, you may experience pauses in breathing while you sleep, until your brain registers elevated levels of carbon dioxide, signaling you to wake up and breathe. You may wake up choking or gasping for air. This can happen 5 times an hour, or even a hundred times during a full night of sleep (or lack thereof). As a result, you may be unfocused during the day, agitated, irritable, or likely to fall asleep when doing mundane activities like watching TV or reading.
If you have already been diagnosed with sleep apnea, you may be living with the pain of a CPAP machine. The noise often keeps you awake, as well as anyone in the room with you attempting to sleep. You are restricted to sleeping in tight range of the noisy machine, and the mask is simply uncomfortable. For many patients suffering from sleep apnea, the CPAP simply doesn't work!
The Center For Dental Excellence offers an alternative solution to the traditional CPAP machines that are loud and uncomfortable. We offer Somnadent's Oral Appliance Therapy, or a mouth guard, you wear while you sleep. The mouth guard is custom fitted to your mouth, designed to keep your airway open. It is comfortable, gives you a full range of motion while sleeping, and it also prevents snoring! Schedule your initial exam today to find out if you are a candidate for this alternative to CPAP.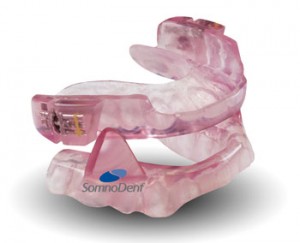 High-Quality Dentistry From Compassionate Doctors
At The Center For Dental Excellence, we understand that changing dentists or searching for a new dentist can be a complicated process. You want to find someone who is professional, offers the services that you need or want, and provides a friendly atmosphere. We meet those standards and beyond! Whether you are seeking a Flossmoor, IL, general dentist, oral surgeon, pediatric dentist, cosmetic dentist, or endodontist, our team of specialists is here to get you the results you want and provide the most enjoyable dental visit possible! Having all dental specialists under one roof saves you the hassle of being referred out for different treatments. Schedule your appointment, complete your new patient forms, then benefit from having all your dental providers in one place! Follow one of the steps below to get started:
Call 708.798.1234 if you have questions or to schedule your first initial exam. One of our friendly team members will be glad to assist you.
Fill out our convenient scheduling form and a member of our staff will be in touch with you shortly to answer questions or schedule your first appointment.