All on Four (Teeth in a Day) in Flossmoor & Homewood, IL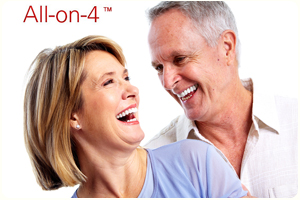 The All-on-4 procedure offered by The Center for Dental Excellence is, simply put, an amazing and potentially permanent solution for all your dental needs. With it, you can replace your full set of upper and lower teeth by using only four implants–as opposed to earlier treatments that required an implant for every missing tooth. All-on-4 can give you the naturally beautiful smile you've always dreamed about!
With only four implants, you will experience a chewing force that matches that of natural teeth. All-on-4 is frequently referred to as "teeth in a day" because the entire procedure can be completed in just a single visit to our clinic in the Homewood, Illinois, area!
What Are The Benefits Of All-on-4?
If you choose the teeth in a day procedure at The Center for Dental Excellence, you will enjoy:
Freedom – Eat anything you want without restriction, just like you would with natural teeth. What's the first thing you're going to enjoy eating once you've received your new teeth?
Permanence – Unlike bridges, crowns, and dentures, which typically last only five to 10 years, the All-on-Four procedure we offer in Flossmoor and Homewood, IL, can give you a smile that will last a lifetime.
Simplicity – Taking care of your new smile won't require any fancy tools or techniques. You'll simply brush and floss as you would with natural teeth. Just don't forget to visit us twice a year for regular cleanings!
Confidence – Say goodbye to the days when you hesitated to smile or show your teeth. All-on-Four is a game-changer! Impress your family, friends, and coworkers with a dazzling new smile and experience newfound self-confidence in all your interactions with others.
What's Involved in the All-on-4 Procedure?
When you opt for teeth in a day, you'll experience the level of patient care that separates The Center for Dental Excellence from the competition. First, we'll use state-of-the-art technology to analyze key information about you. Next, we'll take X-rays, impressions, and panoramic scans to create a complete profile. Based on the information we obtain; we will customize a treatment plan for your unique case.
During the procedure itself, we'll provide you with a full set of natural-looking teeth that are secured into place with four titanium implants. The sedation you receive will ensure that the process is entirely painless. The implants and your new teeth will be placed, all in a single day. You will go home at the end of the day with a brand-new, radiant smile. Just imagine it!
Once you return home, you'll be surprised by how quickly you start enjoying life with your new smile. In some cases, patients have told us they were eating their favorite foods as quickly as 24 hours after they received their new teeth!
A Provider You Can Trust
At The Center for Dental Excellence, we have been treating patients of all ages with All-on-Four in Flossmoor and Homewood, IL, since this procedure first became available more than 15 years ago. Our finely tuned skills and extensive expertise ensure that you're in the best hands and will enjoy the best possible outcome.
The time is right to treat yourself to a smile that will improve your health and change your life. You deserve it!
Call or contact us at 708.792.2679 today to schedule your consultation.
High-Quality Dentistry From Compassionate Doctors
At The Center For Dental Excellence, we understand that changing dentists or searching for a new dentist can be a complicated process. You want to find someone who is professional, offers the services that you need or want, and provides a friendly atmosphere. We meet those standards and beyond! Whether you are seeking a Flossmoor, IL, general dentist, oral surgeon, pediatric dentist, cosmetic dentist, or endodontist, our team of specialists is here to get you the results you want and provide the most enjoyable dental visit possible! Having all dental specialists under one roof saves you the hassle of being referred out for different treatments. Schedule your appointment, complete your new patient forms, and then benefit from having all your dental providers in one place! Follow one of the steps below to get started:
Call 708.792.2679  if you have questions or to schedule your first initial exam. One of our friendly team members will be glad to assist you.
Fill out our convenient scheduling form and a member of our staff will be in touch with you shortly to answer questions or schedule your first appointment.