Flossmoor & Homewood, IL's Top-Rated General Dentists, Oral Surgeon, Pediatric Dentist, Cosmetic Dentist & Endodontist
Flossmoor Dentists For Dental Care, Including Dental Implants, Dentures, Oral Surgery, Orthodontics, Pediatric Dental Care, Invisalign, Teeth Whitening & Sleep Apnea
Dear friend,
Whether you are researching treatment for yourself or a loved one, you are in the right place. At The Center For Dental Excellence our mission is to provide you with excellent treatment and excellent service. Our Flossmoor dentists can help you with your dental care, including dental cleanings, dental fillings, dental crowns, dental implants, dental veneers, All on 4™ permanent new teeth, dentures, gum disease, Invisalign, teeth whitening, sleep apnea and more.
We are all about providing you dental solutions with flexibility. For instance, we love providing you same day dentistry. Same day dentistry at our practice is more than just having appointments available the same day. Your time is extremely valuable, so if you come in for a dental cleaning and happen to need a dental filling or something similar, we will take care of it the same day.
Moreover, we utilize the most advanced technology available. For example, our imaging system can instantly forecast an after photo if we are helping you improve the look of your smile.
When you come to The Center For Dental Excellence, we will consult with you and provide you all of your options. We will guide you in making the best decision for your dental treatment. You should be comfortable with your Flossmoor dentist and the dental treatment provided.
In short, we pride our Flossmoor dental practice on providing innovation, a great patient experience, and ultimately the best dental solution based on your unique needs.
We look forward to meeting you soon!
To Your Healthiest and Happiest Smile,
The Doctors of The Center For Dental Excellence
Our Top-Rated Dentists Are Authors Too!
In The Ultimate Consumer Guide to Your Healthiest, Happiest Smile, our esteemed dentists, Dr. Charles Greenebaum, and Dr. Cary Goldberg offer an in-depth look at their mission to make people smile by providing compassionate dental care with a personal touch. In this informative book, you will learn how to maintain a healthy smile and important keys to choosing a dentist who can service all your dental needs.
Request your FREE copy today to get started on your journey towards a beautiful, confident, smile!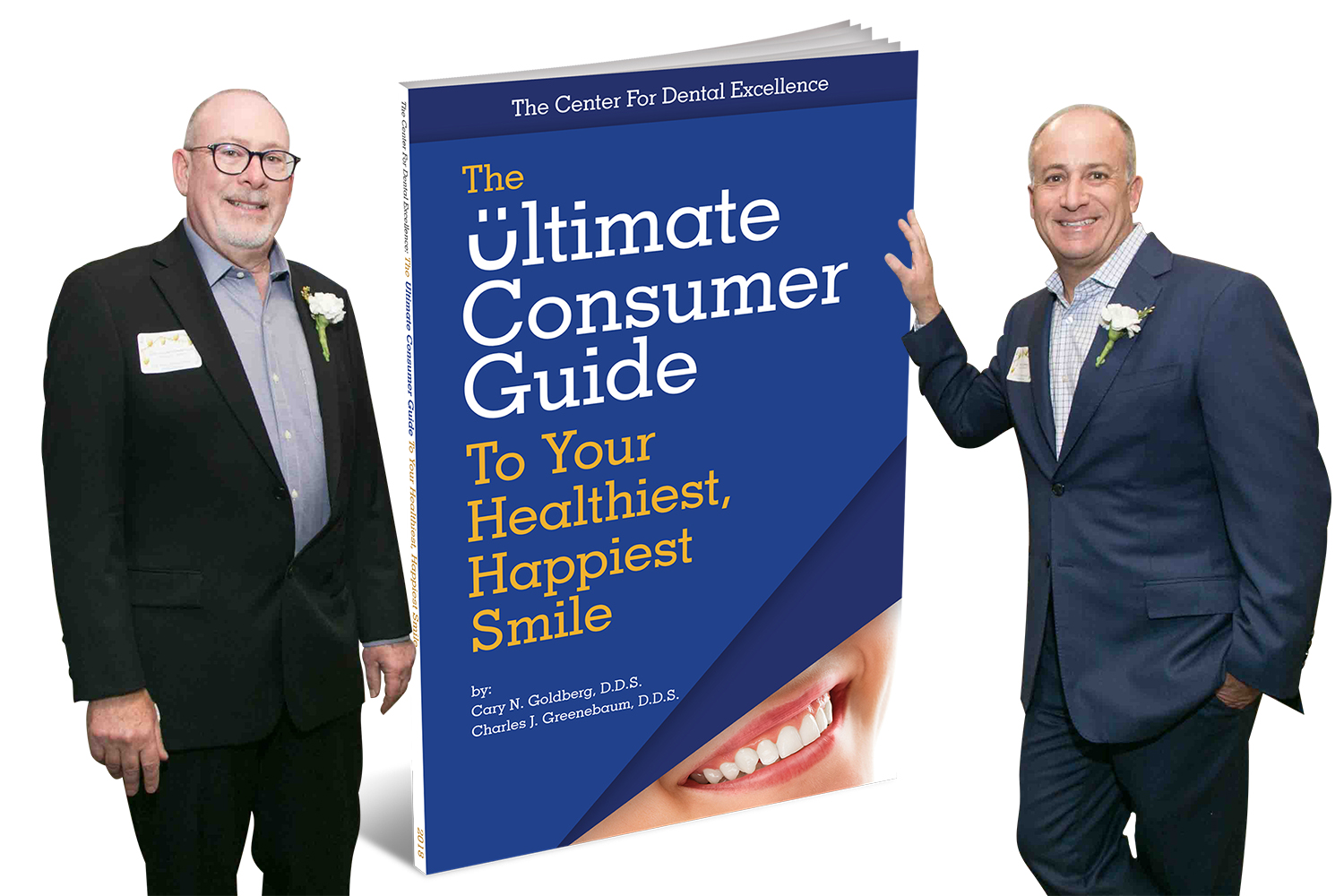 Proudly Supporting Our Local Communities & Beyond…
What To Expect At Your First Visit
Transform Your Smile At The Center For Dental Excellence
Discuss your smile goals & concerns with one of our Dental Specialists
Complete a thorough exam & digital x-rays
Receive a personalized, in-depth treatment plan