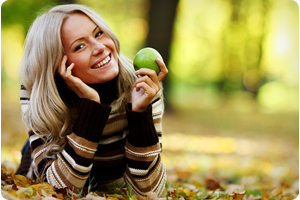 You may have heard the old saying "An apple a day keeps the doctor away," but what does that really mean? Besides snacking on a Granny Smith on a daily basis, what can you do to help keep your smile in tip-top shape between visits to your favorite Flossmoor, IL dentist?
Feed Your Smile
These days, almost everyone knows that a healthy diet does a body good, but your Flossmoor, IL dentist also knows that making good food choices will benefit your teeth, too. From calcium-rich dairy items such as cheese and yogurt to protein-packed low-sugar almonds to the vitamin A and C present in celery (two antioxidants your body needs to achieve and maintain healthy gums), what you eat truly does matter. And don't forget those apples – they're high in fiber which helps to sweep food particles out from in between your teeth.
Use Proper Brushing Technique
As the top dentists in Flossmoor, IL, we recommend following the dental care routine set forth by the American Dental Association:
Use a soft-bristled brush with a head small enough to easily reach all surfaces of your teeth
Brush twice per day, angling your brush 45 degrees away from your gums
To keep your breath fresh, don't forget to brush your tongue!
If you're still not sure you're brushing correctly, ask your Flossmoor dentists for a demonstration.
Floss Regularly
If you asked Flossmoor dentists what the most commonly skipped dental hygiene step is, they'd likely say flossing. It's essential that you floss daily in order to remove bacteria from the area between teeth that your toothbrush's bristles can't reach. Flossing also helps rescue food particles from below your gum line.
Stop Smoking!
Every dentist in Flossmoor, IL can agree on at least one thing: smoking is terrible for your teeth! In addition to discoloring your enamel, smoking can do a number on your mouth and gums.
To help build a better smile, supplement your healthy habits with regular trips to our dental office in Flossmoor, IL. Our Flossmoor, Il dental experts pride themselves in providing patients with the best possible dental care – the whole apple thing is just a really big bonus.
This information is not meant as medical advice. It is provided solely for education. Our Flossmoor dental office would be pleased to discuss your unique circumstances and needs as they relate to these topics.
---
About The Center for Dental Excellence
Top-Rated Flossmoor, IL Dentists — Specializing In Oral Health
We are a team of highly-skilled and experienced dentists in Flossmoor with a reliable support staff. We strive for excellence as we carry its value in our company name.
Why Should You Choose The Center For Dental Excellence Of Flossmoor, IL?
There may already be a lot of dental specialists in Flossmoor, but we are confident in saying that we are one of the best dental offices that serve this area and nearby districts. We are an award-winning dental office, not to mention a recipient of Angie's List Super Service Award and Patch Reader's Choice 'Best Dentist in Town.'
To check out our dental office in Flossmoor, simply drop by our office on Governors Highway in Flossmoor, Illinois. It is always our pleasure to welcome and help our patients with their dental needs, especially new patients. We have also improved our appointment booking and inquiries hotline where you can readily talk to our front desk representative at (708) 794-4231 or use our online inquiry and booking platform at www.flossmoordental.com.