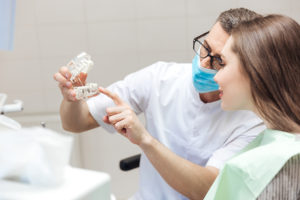 We all try to maintain the best possible dental health, but every so often we need to have some tooth issues addressed. Sometimes dental work is needed in the form of crowns or bridges. That's where your dentists near Homewood, IL, can help!
A crown is used to cover or "cap" a damaged tooth. Your Homewood dentist might recommend this to replace a large filling if there isn't enough tooth remaining, to restore a fractured tooth, or to cover a poorly shaped tooth, among other reasons. Crowns are for restoring the shape and size of a tooth while also improving it strength and appearance. When cemented into place, they fully cover the visible portion of a tooth starting at the gum line.
Crowns can be made of stainless steel (generally for children), metal or metal alloys, resin, ceramic or porcelain. Each material has different advantages, and our staff at the Center of Dental Excellence can gladly help you decide what is best for you.
If you are missing a tooth or teeth, your remaining teeth could gradually shift in ways they otherwise would not, possibly causing more severe problems down the road. A bad bite with misaligned teeth might lead to gum disease and temporomandibular joint (TMJ) disorders. It's best to have a full set of teeth, and a solution here is to use a dental bridge.
Bridges cover the space where one or more teeth are missing, literally "bridging the gap." They are outfitted with replacement teeth (which are made of gold, metal, porcelain, or some combination)  and anchored against the existing natural teeth, keeping your smile properly aligned to avoid future problems caused by missing teeth. There are different materials that can be used, and your Homewood, IL, dentists can help sort through what's best for you. Ceramic or porcelain bridges can be matched to the color of your teeth, making the bridge less noticeable when you show off your smile. Bridges can help restore your smile, restore the ability to properly chew and speak, and maintain the shape of your face by filling in the gaps made by missing teeth.
For both crowns and bridges, the teeth involved need to be must be reduced in size to accommodate the changes. After they are reduced, your Homewood dentists will make a mold for your new bridge or crown. You'll receive a temporary one until the permanent one is ready, and your great dental health will continue apace!
Please contact us or visit our dental office near Homewood, IL, for much more information!
This information is not meant as medical advice. It is provided solely for education. Our dental office near Homewood, IL would be pleased to discuss your unique circumstances and needs as they relate to these topics.
---
The Center for Dental Excellence Near Homewood, IL
Homewood, IL's Top-Rated Dental Office
We are a team of highly-skilled and experienced dentists near Homewood with a reliable support staff. We strive for excellence as we carry its value in our company name.
Why Should You Choose The Center For Dental Excellence Of Homewood, IL?
There may already be a lot of dental specialists near Homewood, IL, but we are confident in saying that we are one of the best dental offices that serve this area and nearby districts. We are an award-winning dental office, not to mention a recipient of Angie's List Super Service Award and Patch Reader's Choice 'Best Dentist in Town.'
To check out our dental office in Flossmoor, simply drop by our office near Homewood, Illinois. It is always our pleasure to welcome and help our patients with their dental needs, especially new patients. We have also improved our appointment booking and inquiries hotline where you can readily talk to our front desk representative at (708) 794-4231 or use our online inquiry and booking platform at www.flossmoordental.com.