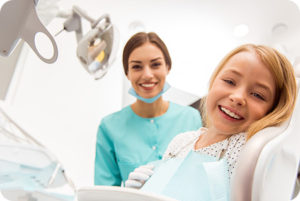 When it comes to lifelong oral health, our Flossmoor, IL, dentists stress the importance of preventive care for both children and adults. To maintain healthy teeth, it's vital to practice good habits, such as brushing and flossing daily, regular dental visits, and eating a proper diet. There are certain people, however, that due to the shape of their teeth, are more susceptible to tooth decay, regardless of their hygiene efforts! For these patients, our dentists and hygienists in Flossmoor, IL, suggest using sealants to keep tooth decay at bay.
Maintain Healthy Teeth with Sealants from Our Flossmoor, IL, Dentists
What are Sealants?
When your teeth are particularly groovy, our Flossmoor, IL, dentists recommend using sealants; a thin, plastic coating that is adhered to the chewing surface of the teeth, usually molars, to help keep cavities from forming. Sealants act as a barrier around your teeth and shield them from bacteria and cavity-causing food particles that are known to become trapped in molar grooves. The use of sealants can also stop the early stages of tooth decay.
Who Can Benefit from Sealants?
Sealants are used most often by our Flossmoor, IL, dentists on young children and teenagers, as they are generally more susceptible to developing tooth decay. In most cases, children should get sealants on their permanent molars and premolars when they come in, which is around age six.  Sealants should be applied a second time once the permanent molars erupt, at around age 12. For adults with cavity-prone teeth, sealants can also be a good way to maintain healthy teeth.
Do Sealants Work Long-Term?
With the proper care, dental sealants can last up to 10 years. Our five-star rated dentists in Flossmoor, IL, will check them at each regular examination and can reapply in areas where needed. Dental sealants wear away gradually, so removal isn't necessary. Poor hygiene habits can speed up the wearing process; however, so make sure to take care of your teeth to extend the life of your sealants.
Find Out if Our Dentists in Flossmoor, IL, Can Help You!
Just like many preventative oral health treatments, sealants can go a long way in protecting your teeth from cavities and tooth decay. They're not for everyone, though, so contact our dentists in Flossmoor, IL, for more information or to find out if you're a candidate for sealants!
The information provided in this article is not meant to be medical advice and is for educational purposes only. If you would like to learn more about this and other dentistry-related topics, feel free to contact The Center For Dental Excellence, with a convenient dental office in Flossmoor, IL, by clicking here.