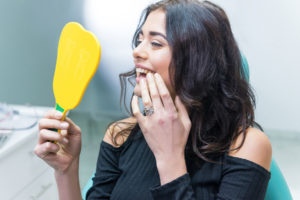 If you have missing teeth or crowns that need replacing, consider dental implants! Dental implants are permanent solutions to missing or damaged teeth that match your natural tooth color and look beautiful for years to come. Our oral surgeon in Flossmoor & Homewood, IL, offers this treatment and wants to provide more information!
What Are Dental Implants?
Dental implants are essentially artificial tooth roots that are implanted into your jaw. The artificial tooth root resembles a screw, and it bonds to your jaw, providing a base for an artificial tooth. The artificial tooth is a crown, which looks exactly like a natural tooth, and is screwed into the tooth root. These crowns blend right in with your natural teeth, making for an amazing, seamless smile to restore your confidence!
Benefits of Dental Implants
Dental implants allow you to talk, eat, and smile with confidence again. Implants are easy to care for, as they don't slip like dentures, and they can be treated exactly like your normal teeth. If you're missing teeth or are considering restoration for old crowns or bridges, dental implants can give you a more permanent, gleaming smile. Additionally, since dental implants attach and fuse to the bones in the jaw, they also stimulate bone growth, making for a healthier mouth!
The Dental Implant Process & Aftercare
Our dentist will perform a comprehensive dental exam to make sure you are a good candidate for dental implants. This includes an exam of your gum and tooth health, as well as an analysis of your jaw bone density, as the bone needs to be strong enough to support the artificial tooth roots.
Once you're confirmed for surgery, you may be concerned that the procedure may be painful. However, it is a generally painless procedure! Our dentist uses an anesthetic prior to the surgery to ensure maximum comfort. After the implant is placed, there may be some soreness, which can be treated with ibuprofen or another pain-relief medication.
You should take care when brushing and flossing around the area and avoid hard foods while the implant fuses to the bone. There is a small risk of infection after the procedure. If you experience severe pain around the implant site, contact our dentist immediately for a follow-up appointment.
Contact Our Oral Surgeon in Flossmoor & Homewood, IL, For An Appointment Today!
The information provided in this article is not meant to be medical advice and is for educational purposes only. If you would like to learn more about this and other dentistry-related topics, feel free to contact The Center For Dental Excellence, with a convenient dental office in Flossmoor & Homewood, IL, by clicking here.