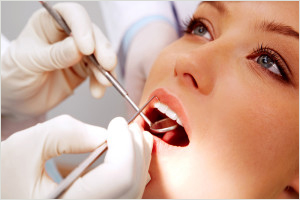 One of the most common recurring nightmares in among all people in Flossmoor, IL is that of your teeth falling out. And if this were to happen in real life, it would be a nightmare come to life for most Americans. So how can you prevent these bad dreams from coming true? How can you keep your teeth healthy and strong?
Eating Healthily
While you already know about brushing your teeth, it's important to realize that food still affects your teeth even if you brush it away. Flossmoor, IL residents need to be getting enough vitamins and minerals to keep your bone and tooth enamel strong. Calcium is very important—as is vitamin D, as that is what helps your body absorb the calcium.
There are many other minerals and vitamins that will help keep your general dental health strong. Make sure you are eating a balanced diet that is full of dairy products, fish, almonds, dark and leafy veggies, eggs, whole grains, and orange foods.
Eating healthy for your teeth also means avoiding sugary and acidic foods. These will wear away at the enamel on your mouth.
Fluoride: Friend or Foe?
Although fluoride is controversial and can, in large amounts, be poisonous, it is crucial to maintaining strong teeth. Moderation in all things is key when it comes to fluoride. If you don't have fluoridated water, use toothpaste and mouthwash that are fortified with fluoride to protect your teeth. But be careful not to get too much or your teeth could become mottled.
General Tooth Care
There is a reason we talk about dental hygiene so much—it's important! And while it is important to protect your teeth from decay, more teeth are actually lost through gum disease. Keep brushing carefully, floss, and see your Flossmoor, IL dentist as often as you need so that you can avoid developing this condition that will permanently harm your mouth.
In addition, pay attention to any changes you may notice in your mouth. Are your teeth loosening up? Do they hurt? Keep track of changes and get to the root of any problems as soon as you can. Doing this will help keep your teeth as strong as they can be for as long as they can be.
This information is not meant as medical advice. It is provided solely for education. Our practice would be pleased to discuss your unique circumstances and needs as they relate to these topics.
---
Meet The Center for Dental Excellence
Flossmoor & Homewood, IL's Favorite 5-Star Rated Dental Office
We are a team of highly-skilled and experienced dentists in Flossmoor with a reliable support staff. We strive for excellence as we carry its value in our company name.
Why Should You Choose The Center For Dental Excellence Of Flossmoor, IL?
There may already be a lot of dental specialists in Flossmoor, but we are confident in saying that we are one of the best dental offices that serve this area and nearby districts. We are an award-winning dental office, not to mention a recipient of Angie's List Super Service Award and Patch Reader's Choice 'Best Dentist in Town.'
To check out our dental office in Flossmoor, simply drop by our office on Governors Highway in Flossmoor, Illinois. It is always our pleasure to welcome and help our patients with their dental needs, especially new patients. We have also improved our appointment booking and inquiries hotline where you can readily talk to our front desk representative at (708) 794-4231 or use our online inquiry and booking platform at www.flossmoordental.com.