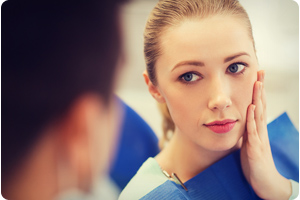 Even if you make regular visits to your favorite Flossmoor, IL dentists, you may occasionally find your sunny smile dampened by a pesky toothache. A proper diagnosis requires a thorough exam, but in the meantime here are a couple common causes of toothaches – and one rather surprising culprit – courtesy of the top-rated dentists in Flossmoor, IL.
Cavities
Cavities are probably the most common reason people call into our Flossmoor, IL dental office with a toothache. When food debris lingers in your mouth, those particles turn into bacteria that combines with the acid in your saliva to form a hard coating on your teeth called "plaque." Your Flossmoor dentists can remove that plaque, but if it's left to sit – or if your teeth are soft or frequently exposed to acid from things like citrus or soft drinks – it can create small holes called cavities. Even small cavities can lead to a toothache, and even conscientious brushers can get cavities.
Periodontic Conditions
Dentists in Flossmoor, IL don't just treat teeth, they take care of your gums too, and for good reason. Periodontic conditions such as receding or swollen gums can leave the tender nerve of a tooth exposed, trap a tooth under the gums, or create pockets for plaque to hide in, all of which may lead to toothaches. The best cure is prevention; brush and floss daily and treat your teeth to regular checkups.
Sinus Problems
It doesn't seem like your runny nose and bum tooth have anything in common, but if your pain is originating from somewhere near your upper rear teeth – the part of your mouth closest to your sinus cavities – clogged sinuses may be the surprising culprit. Before you head off to see your favorite Flossmoor, IL dentist, treat your sinus infection. You may find that once you're breathing easier, your toothache will fade away as well – and if not, always know that your trusty Flossmoor dentists are ready and willing to help!
If a toothache is making it difficult for you to eat, drink, or even smile, it's time for an appointment with our dental office in Flossmoor, IL. We'll find the cause and offer a solution that will have you grinning again as soon as possible.
This information is not meant as medical advice. It is provided solely for education. Our dental office in Flossmoor, IL would be pleased to discuss your unique circumstances and needs as they relate to these topics.
---
About The Center for Dental Excellence
Top-Rated Flossmoor, IL Dentists — Specializing In Oral Health
We are a team of highly-skilled and experienced dentists in Flossmoor with a reliable support staff. We strive for excellence as we carry its value in our company name.
Why Should You Choose The Center For Dental Excellence Of Flossmoor, IL?
There may already be a lot of dental specialists in Flossmoor, but we are confident in saying that we are one of the best dental offices that serve this area and nearby districts. We are an award-winning dental office, not to mention a recipient of Angie's List Super Service Award and Patch Reader's Choice 'Best Dentist in Town.'
To check out our dental office in Flossmoor, simply drop by our office on Governors Highway in Flossmoor, Illinois. It is always our pleasure to welcome and help our patients with their dental needs, especially new patients. We have also improved our appointment booking and inquiries hotline where you can readily talk to our front desk representative at (708) 794-4231 or use our online inquiry and booking platform at www.flossmoordental.com.