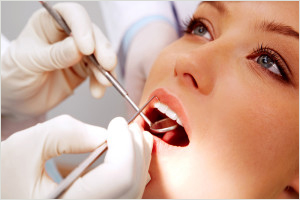 If you have a filling fall out, there's no need to panic. It may feel weird at first, but it actually happens to a lot of people and isn't as bad as you might think. While you may not know what to do at first, the best first step is to call one of our Flossmoor, IL dentists.
Fillings are used to fill areas of decay in the tooth. If the filling falls out and is not treated quickly, it could lead to worse problems such as root canal. Of course, it is best to brush and floss zealously to avoid cavities in the first place, but this doesn't always work out. If your filling falls out, get it treated immediately by one of our dentists in Flossmoor, IL to reduce risk of further complications.
There are a few reasons why fillings fall out. It could be that your tooth has decayed even further around the filling. Our Flossmoor dentists will be able to tell you what the cause was. While you are waiting to see our Flossmoor, IL general dentists, avoid chewing on the decayed tooth. Stay away from gummy or sticky foods. Keep your filling and bring it with you to your appointment.
This information is not meant as medical advice. It is provided solely for education. Our Flossmoor dental office would be pleased to discuss your unique circumstances and needs as they relate to these topics.
---
Meet The Center for Dental Excellence
Your Favorite Flossmoor, IL Dentists
We are a team of highly-skilled and experienced dentists in Flossmoor with a reliable support staff. We strive for excellence as we carry its value in our company name.
Why Should You Choose The Center For Dental Excellence Of Flossmoor, IL?
There may already be a lot of dental specialists in Flossmoor, but we are confident in saying that we are one of the best dental offices that serve this area and nearby districts. We are an award-winning dental office, not to mention a recipient of Angie's List Super Service Award and Patch Reader's Choice 'Best Dentist in Town.'
To check out our dental office in Flossmoor, simply drop by our office on Governors Highway in Flossmoor, Illinois. It is always our pleasure to welcome and help our patients with their dental needs, especially new patients. We have also improved our appointment booking and inquiries hotline where you can readily talk to our front desk representative at (708) 794-4231 or use our online inquiry and booking platform at www.flossmoordental.com.