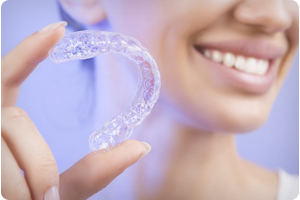 The first day of school is so exciting. There are new teachers to meet, new lockers to decorate, and new subjects to tackle, but best of all, you have a chance to debut a whole new you. Summer break is the perfect opportunity to begin reimagining your smile thanks to your dentists in Homewood, IL and the magic of Invisalign.
The Invisalign System 
Invisalign is revolutionizing how we straighten teeth at our dental office near Homewood, IL. The Invisalign system consists of clear trays called aligners that slip over your teeth and help reshape your smile. Your Homewood, IL dentists will have each aligner created just for you, taking customized dental treatment to a whole new level. The changes are gradual and because there are no wires, you'll swap out your bi-weekly adjustments from your Homewood dentists for the delivery of a new aligner – just snag your new set, pop it in, and you're on your way!
All But Invisible
For self-conscious pre-teens or teenagers who might be concerned about heading back to school wearing traditional metal braces, Invisalign offers a virtually invisible alternative. The trays are made of one clear, smooth piece of plastic with no brackets or wires. You can take them out when you eat or give your book report and put them back in once you're no longer the center of attention. They're convenient, and best of all, the only person who has to know you're straightening your teeth is you – and your Homewood, IL dentists, of course!
Your Incredible Smile Transformation
Heading back to school is it a lot less scary for children with Invisalign, but Homewood dentists often face another question from concerned parents: does Invisalign really work? In short, yes! Not only will Invisalign help straighten your or your child's teeth, those newly straightened teeth will actually help improve your health overall. As the top-rated dentists in Homewood, IL, we've seen how hard it can be to brush between crooked teeth or floss properly when your teeth overlap. Straighter teeth lead to cleaner teeth, which makes investing in Invisalign the smart thing to do.
Are you ready to discover your best smile? Make an appointment with the top-rated Homewood, IL dental and Invisalign experts now and you'll be well on your way to straighter teeth when it's time to go back to school.
This information is not meant as medical advice. It is provided solely for education. Our practice would be pleased to discuss your unique circumstances and needs as they relate to these topics.
---
The Center for Dental Excellence In Homewood, IL
Homewood, IL's Top-Rated Dental Office
We are a team of highly-skilled and experienced dentists in Homewood with a reliable support staff. We strive for excellence as we carry its value in our company name.
Why Should You Choose The Center For Dental Excellence Of Homewood, IL?
There may already be a lot of dental specialists in Homewood, IL, but we are confident in saying that we are one of the best dental offices that serve this area and nearby districts. We are an award-winning dental office, not to mention a recipient of Angie's List Super Service Award and Patch Reader's Choice 'Best Dentist in Town.'
To check out our dental office in Flossmoor, simply drop by our office near Homewood, Illinois. It is always our pleasure to welcome and help our patients with their dental needs, especially new patients. We have also improved our appointment booking and inquiries hotline where you can readily talk to our front desk representative at (708) 794-4231 or use our online inquiry and booking platform at www.flossmoordental.com.