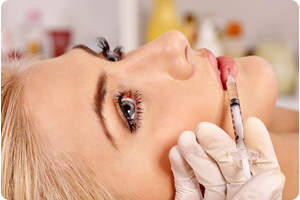 Flossmoor, IL, dentists provide patients with plenty of ways to improve the way your smile looks, including restorations like veneers, crowns, dental implants and tooth-colored fillings, as well as the ever-popular tooth whitening procedures. And while all those approaches can create a more attractive, more confident smile, many patients are still bothered by concerns like a "gummy" smile or persistent lines around the mouth that can detract from the overall appearance of their smile. Recently, BOTOX injections have emerged as a great solution for these and other non-cosmetic concerns, helping patients achieve optimal results for their "smile upgrades" as well as addressing issues like TMJ or grinding and clenching habits. At our dental office in Flossmoor, IL, we use advanced techniques to help patients get the best results from the BOTOX treatments.
How does BOTOX work?
BOTOX works by blocking nerve signals that travel from specific areas of the face and jaw to the brain, preventing muscle contractions that can cause wrinkling as well as discomfort. At our Flossmoor, IL, dental practice, the BOTOX solution is injected using very fine needles to target specific areas of muscle tissue for very precise results. As a top-rated Flossmoor, IL, dentist, our staff is skilled in anesthetic techniques to help decrease or eliminate any discomfort associated with injections, so you can remain comfortable and relaxed during your treatment. Most treatments take just a few minutes to complete.
How long does BOTOX last?
Typically, BOTOX injections last about three to four months. Patients being treated for wrinkling may be able to be treated less often as lines and creases become softer with multiple treatments.
How can I tell if BOTOX is right for me?
As the leading dentists in Flossmoor, IL, we work carefully with each patient to determine his or her specific needs. During your consultation appointment and exam, you'll be asked about your treatment goals and your concerns, including symptoms like jaw pain and chronic headaches often associated with TMJ and tooth grinding and clenching. Next, our Flossmoor dentists will perform a complete dental exam to look for uneven tooth wear and tiny fissures that can also occur with TMJ and frequent grinding. If you're concerned about a gummy smile or wrinkles and lines around the mouth, those areas will also be carefully assessed. Once your exam is complete, we'll be able to determine if BOTOX is a good option to help you achieve your goals.
Top-rated Dentists in Flossmoor, IL
Our Flossmoor dentists are skilled in providing patient-centered care tailored to each patient's unique needs. As a leading dental practice in Flossmoor, IL, we offer the most advanced treatment options for all types of dental needs, including preventive care, restorative options and cosmetic treatments. To learn more about BOTOX and our other treatment options, call our office at (708) 794-4231 and schedule your exam today.
This information is not meant as medical advice. It is provided solely for education. Our Flossmoor dental office would be pleased to discuss your unique circumstances and needs as they relate to these topics.
---
About The Center for Dental Excellence
Top-Rated Flossmoor, IL Dentists — Specializing In Botox
We are a team of highly-skilled and experienced dentists in Flossmoor with a reliable support staff. We strive for excellence as we carry its value in our company name.
Why Should You Choose The Center For Dental Excellence Of Flossmoor, IL?
There may already be a lot of dental specialists in Flossmoor, but we are confident in saying that we are one of the best dental offices that serve this area and nearby districts. We are an award-winning dental office, not to mention a recipient of Angie's List Super Service Award and Patch Reader's Choice 'Best Dentist in Town.'
To check out our dental office in Flossmoor, simply drop by our office on Governors Highway in Flossmoor, Illinois. It is always our pleasure to welcome and help our patients with their dental needs, especially new patients. We have also improved our appointment booking and inquiries hotline where you can readily talk to our front desk representative at (708) 794-4231 or use our online inquiry and booking platform at www.flossmoordental.com.